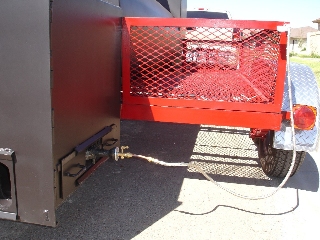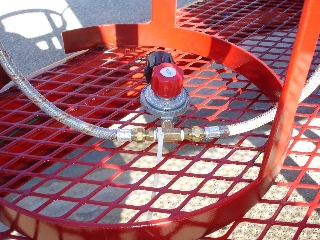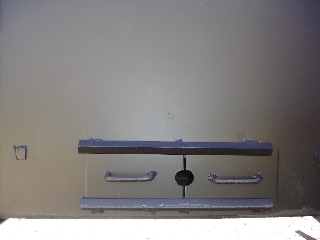 This is log starter kit. It consists of the regulator & gas line from the tank to the firebox, a low pressure burner and sliding doors on the side of the firebox. With the low pressure burner you can set the flame very low or high. It can start the wood and aid you to cook.
BBQ Smoker's Fire box with door open
fire box from behind
fire box w/ top open
The holes that can be seen on the door of the firebox are for the BBQ Pit's adjustable air intake. They can be fully open or closed
| | | |
| --- | --- | --- |
| | | |
| All the BBQq grills are framed and slide in and out of our BBQ smokers, | The Old Country BBQ smokers have wall to wall expanded metal | The vertical section of all our BBQ smokers have sliding racks plus 2 swiveling rods |
Bolt for tightening the tuning plates
Tuning plates & the firebox's baffle
Tuning plates along the grill section.
The tuning plates in the BBQ smokers help distribute the hot air from the fire box, and allow the smoker to have an even cooking temperature
Bulldog hitch
New 15" tires
3500# cap. 4 leafs suspension springs
All our portable BBQ smokers come with brand new trailer parts. They are ready to be driven.
| | | |
| --- | --- | --- |
| | | |
| Low pressure double burner | Pulling two smokers together | Modified All American BBQ grills |
Questions about a photo? contact us!
OLD COUNTRY BBQ PITS
6700 SANTA MARIA AVE. * LAREDO TEXAS, 78041
(210) 875-1808
E-Mail: grills@oldcountrybbqpits.com

Home Portable BBQ Smokers Portable BBQ Grills Backyard BBQ Pits Outdoor fire pits BBQ Smokers photos Delivery info. About us Contact us